Breach Defense is one of five Certificates offered.
Breaking down the anatomy of a massive breach starts with a diagram describing attacker steps taken to avoid detection. Several lessons have been learned that help organizations defend against supply chain breaches.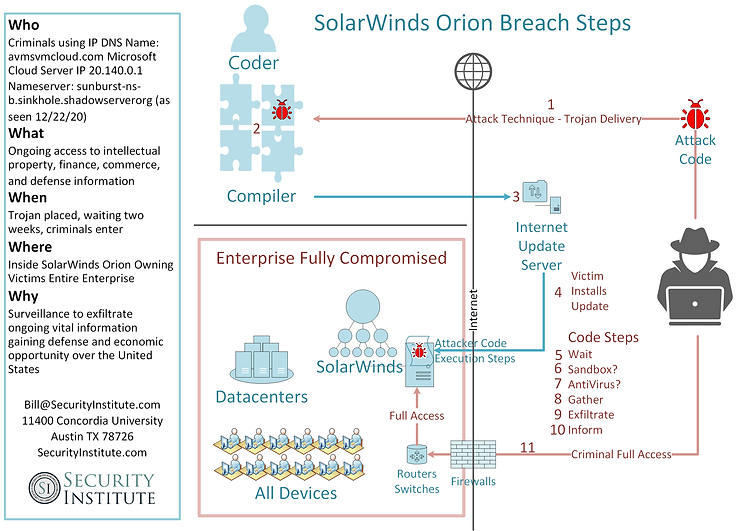 The criminals exfiltrated data to a Microsoft cloud server using a DNS name that was designed not to create suspicion, but the DNS name server name was suspicious.
In the materials are additional diagrams suggesting by color code what parties could be considered at fault.
Many simple best practices will be examined that would have stopped the breach at various points. Once beyond the simple fundamental errors, more sophisticated attack methods were successful at completing the breach.
Attend Breach Defense May 10-11 2022 Register for Austin Cyber Show Zoom Events
Join US and Canada cyber community members at the inaugural Austin Cyber Show Conference at Concordia University Texas, May 10-11. During the two-day cyber defense conference, participants can engage in discussions with peer leaders and industry experts on the cyber risks and challenges that businesses, leaders, developers, educators, and students face each day. Attendees will walk away with new insight and leadership lessons learned to defend against ransomware, phishing, and data exfiltration attacks. Five Cyber-By-Fire Skill Certificates are available to earn at the event and via Zoom Events online for 30 days afterward. Certain Zoom Event features only work in US/CAN.